Guitar and music summer courses in Madrid.
This information is about how the summer courses were in 2023 and the courses Miguel Angel González Aguado will offer next summer 2024.
In the other hand he offers, as usual, his guitar lessons, other instruments lessons like piano and also music theory and harmony lessons.
Customized guitar courses:
Some students of Miguel Angel González Aguado prefer to continue with the guitar lessons as in the rest of year, sometimes concentrating the 4 lessons of the month in two weeks. In this way, it's possible to create a customized course with the needs and time availability of each student. It may become an intensive course too concentrating many lessons in a short time with some discount in the price and giving the subjects that the students like to learn more.
-Price of the "Customized guitar course":
Since the customized course may be at your home or face-to-face, in a personalized number of sessions and schedule, is not possible to give a general total price. As guitar lessons, they have the same price as the rest of the year, but a discount could be made depending on the quantity of lessons taken in a week (since during the school year lessons use to be once a week). If a student takes seven or more lessons in a month a discount of 10 % is applied and if the student takes eleven or more lessons the 20 %. Since this is a customer loyalty for quantity of lessons, the discount will be fulfil at the end of the month, charging the first lessons at the normal price and accumulating all the discount to apply it at the last classes. All lessons may be shared with another person, and be two students in class paying half price each. If you don't live in Madrid you can take guitar lessons online from any part of the World.
Guitar and music courses:
Miguel Angel González Aguado offers face-to-face courses in groups of four students. You may join this course for a fortnight or a month long. The course consists of an hour daily class Monday to Friday of each of these three lessons:
1. Guitar intensive course.
Students will be taught pieces of different styles: classical, flamenco, rock, blues, etc. This course could be for beginners who have never played guitar before as well as non-beginners or advance who would like to amplify their knowledge.
In these lessons students will learn, several parts of song (depending on their level) and techniques of the instrument that may be classical, electric, acoustic and bass guitars and piano forming all a pop, rock or metal band.
2. Spanish classical guitar history.
In this course students will know the Spanish Culture through the music.
Students can learn about the origin of the Classical Guitar (Spain) and its development. Also students will know about the Lute, the Vihuela, Spanish musicians and their masterpieces, flamenco music, the beginning of the acoustic and electric Guitars, the 50's, 60's, 70's and 80's in electric guitar, last tendencies of classical music, last tendencies in popular music and the Indian Sitar.
3. Spanish lessons and language selection.
This summer course also includes a daily Spanish lesson, to understand better the Spanish culture. Students can choose the language of the lessons. Miguel Angel González Aguado has got TOEFL degree and was exchange student in Seattle, Wa (USA) in 1986-87, so he speaks fluent English. If the students choose to have the lessons in Spanish, they could practice conversation, vocabulary and pronunciation during the lessons. It's possible to have the lessons in both languages for better understanding and major confort of the student.
In the other hand Miguel Angel González Aguado has been a guitar teacher for more than 20 years. In this wesite you can see all his academic qualification from Conservatoire and University.
-One day excursion to visit the center of Madrid.
In this course there will be students from Spain and from other countries at the same time; its a way to interact with students from other countries and practice languages. For that reason these courses are international. The first Sunday of the course, all the students have the chance to visit places of interest in the center of Madrid to know better the old part of the city.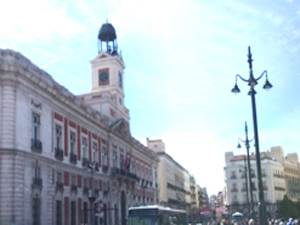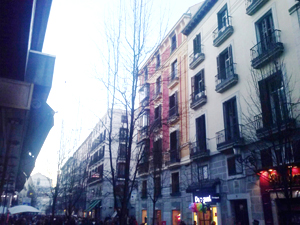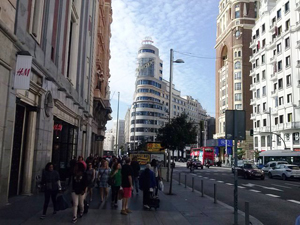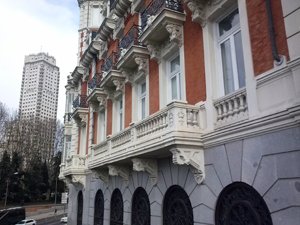 -Prices of the "Guitar and music summer course" in groups of four students:
The price of the two weeks long summer course is 200 € per student. That includes 3 hours of lessons per day Monday to Friday (one hour of Guitar, one hour of Guitar History and one hour of Spanish). Then on Sunday of the first weekend all the students of the course will have a turistic visit of the center of Madrid.
The price per student of one month summer course is 375 €. That includes 3 hours every weekday of the same lessons before mentioned and two turistic visits. If two brothers or sisters join together the same two weeks summer course the price would be 375 € in total. These prices do not include accommodation or meals.
Don't wait till summer!
Are you coming to Madrid? If you are going to visit Madrid you can actually learn to play guitar with the new three days touristic course that Miguel Angel González Aguado offers, in which he teaches guitar and shows parts of the historical center of Madrid.
Contact:
Phone and WhatsApp: +34658910099
Face-to-face lessons:
c/ Ayala 72, 1º L
28001 Madrid, Spain
Public transportation
Underground (Metro): lineas 2, 4, 5 and 9 estaciones "Goya", "Principe de Vergara" and "Nuñez de Balboa"
Buses: 1, 9, 19, 21, 26, 29, 51, 52, 53, 61 and 74