"Tormenta" by Miguel Angel González Aguado.
"Tormenta" is a work by Miguel Angel González Aguado that is included in his his first CD Canción de Invierno". At present, he has these records published: "Canción de Invierno" since 2000, Composiciones Secretas since 2013 (both are albums) and in 2018 he released the single Piensa que lo lograrás, then the album Fuerza de Voluntad and then the single Paseando por Madrid.
His new album Confía en Mí is already published!! and available on these digital platforms with his other records. With this album, he gives thanks to God.
The single Te va a ayudar was published on May 23. It's the single from this new album and the track no 6 of the album. Both, album and single are dedicated to Jesus of Nazareth.
All these records are instrumental and entirely composed by Miguel Ángel González Aguado.
In "Tormenta", he combines an electric and a classical guitar during the piece and, at the end, both guitars are played at the same time! Tormenta starts with the electric guitar that he holds adjusting the guitar's belt to his waist. Suddenly he stops and takes the classical guitar with his right hand (that was next to him in a stand) and starts playing his classical guitar softly. In the album, a bit latter, when the classical guitar has been sounding for a while, also both guitars appear together and here they do where played and taped separately; we are not meaning this moment but at the end of the piece.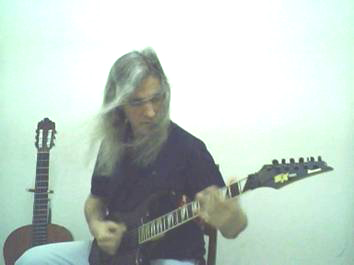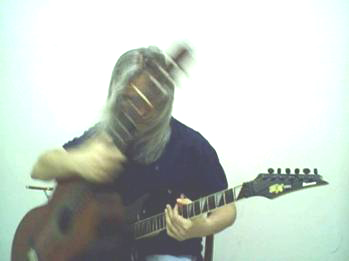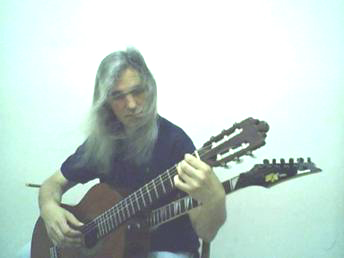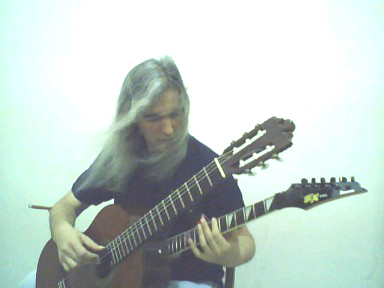 After that, he plays again his electric guitar (so he leaves the classical guitar in the stand again) but then, when the electric guitar "it's at limit", comes the surprise: he takes again the classical guitar and plays both at the same time: the electric guitar by "tapping" (hammering the strings with the left hand) and the classical guitar with the right hand, here they where not taped separately. That looks spectacular in his concerts which he gives since more than 30 years.
More recommendations:
In this website you can enquire about the guitar lessons that Miguel Angel González Aguado offers in Madrid (Spain), outside the city in Carretera A 1 in the north area of Madrid and online from any place of the World. You can also find all the information about the videos by Miguel Angel González Aguado (including the video of "Tormenta") and see the list of places where you can buy records by Miguel Angel González Aguado ("Tormenta" is included in his his first album Canción de Invierno") and his scores and books.